Graduate Certificate in the Engaged & Public Humanities (Non-Credit)
*The Graduate Certificate in the Engaged & Public Humanities has been postponed*
Join us for a packed schedule of lectures and workshops led by faculty active in the engaged and public humanities; site visits to the Library of Congress, the Aspen Institute, and the Council of Graduate Schools; an intensive ImaginePhD employment preparation workshop; the Humanities Professionals Showcase where you will meet and network with over 25 local humanities PhDs in diverse careers; and the opportunity to develop and showcase your own public humanities project.
Deepen your understanding of the value of advanced humanities training, learn how to communicate these values to the public and potential employers, and explore job markets interested in employing humanities scholars in positions requiring advanced skills in language, research, analysis, critical thinking, and writing.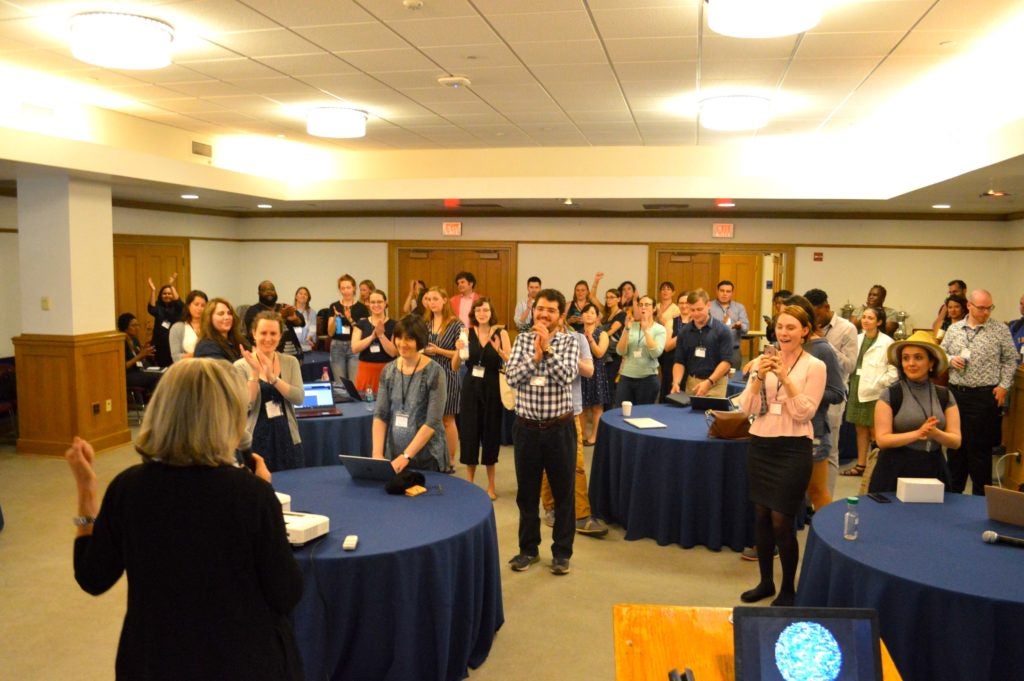 Who should apply? This program is appropriate for humanities graduate students at any degree level, Ph.D. students in the humanities, and graduating seniors receiving a B.A. in a humanities field (such as language, literature, philosophy, theology, or history) who are interested in the role that the humanities can play in every sector of public and private enterprise, as well as early career professionals working in a humanities field who are interested in continuing professional development and networking.
Undergraduate Seniors
Interested in exploring the connections that bring the humanities to medicine, law, private enterprise, and the local community
Masters Students
In the humanities or sciences interested in connecting their passion and research interests to the wider world.
Doctoral Canidates
Interested in exploring the broad swath of careers beyond academia open to trained humanists.
Humanities Professionals
Interested in further exploring the relationship between humanities training and professional advancement.
---
The non-credit Certificate offers a robust introduction to the theories and methods of the engaged and public humanities through collaborative workshops with humanities faculty and practitioners. Working together, we will explore the meanings of "public," "engagement," and "humanities" as they relate to the changing ecosystem of academia and the public sphere, from government entities to private industry.
The essential skills and methods common to the humanities have much to offer the global and local challenges we face. Learn how to articulate the value of the humanities to managing climate change, global health threats, artificial intelligence and big data, and issues of cultural division and diversity.
The program will be capped by a Humanities Professionals Showcase featuring resume and interview workshops geared toward future humanities professionals. The Showcase will host a broad selection of employers in a variety of enterprises in the Washington, D.C. region—ranging from libraries and think-tanks to corporations and governmental agencies—who are interested in hiring humanities scholars.
Please visit our Fellowship Projects page to view the public-facing work of our 2019 Certificate's Humanities Ambassador Fellows.
---
The program is stewarded by Georgetown's ReinventPhD in the Humanities at Georgetown, a Mellon-funded project organized by Connected Academics.