2022 Past Events
Spring 2022
No to War Film Series
Dates: March 14, March 18, April 1, April 8 and April 29, 2022
The Department of Slavic Languages organized this film series exploring both classic and contemporary Slavic films that convey an anti-war message:
The Ascent (1977), directed by Larisa Shepitko;
Come and See (1985), directed by Elem Klimov;
Prisoner of the Mountains (1996), directed by Sergei Bodrov;
Beanpole (2019), directed by Kantemir Balagov; and
Donbass (2018), directed by Sergei Loznitsa, on the simmering conflict preceding Russia's current invasion of Ukraine.
Humanities Grads in Business Fields-Virtual Alumni Panel
Date: April 26, 2022
In this event, co-hosted by the Cawley Career Education Center and the Georgetown Humanities Initiative, Georgetown College alumni talk about how they navigated career decisions on and off the Hilltop, what helped them land their jobs in business fields after graduation, how have they translated their humanities backgrounds to a fruitful career in business, and what advice they have for current or soon to be graduated students.
The panelists included:
MacKenna Strange (COL '19, English), Marketing Manager at Amazon Music,
Bee Jaworski (COL '17, American Studies), Program Manager Talent Partnerships at Etsy, and
Kathryn Murphy, (COL '21, History), Business and Technology Strategist for MITRE.
Humanities Teaching as Leadership Training: A Study-to-Practice Faculty Development Workshop Series
Dates: February 3, February 10, February 17 and April 7, 2022
This four-part study-to-practice (S2P) workshop series, offered by the Georgetown Humanities Initiative and Kallion Leadership Inc., gave faculty, graduate students and senior undergraduates the opportunity to:
Better understand and appreciate the role that humanities educators play as leadership trainers;
Intentionally redesign course materials with the explicit aim of getting students to practice leadership behaviors and cultivate leadership traits; and
Develop ways to effectively communicate with students, colleagues, administrators, and the public the ways in which humanities coursework translates into better leadership practice for students in the short and long-term.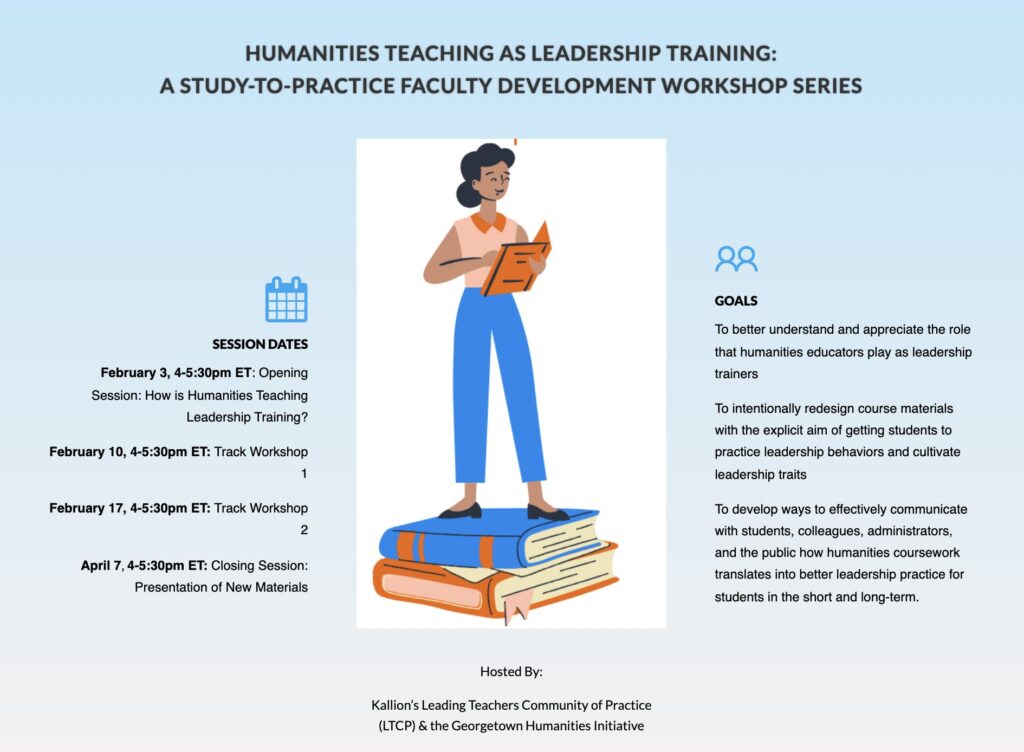 Small cohorts of faculty, graduate students and senior undergraduates worked together as equal partners in creating innovative leadership development course materials in order to make more engaging subject matter for all.
Faculty redesigned course materials, such as a syllabus, a module or assignment, with a leadership development framework in mind. Students co-designed the materials alongside faculty and provided their expert input on what kinds of activities are engaging and illuminating to students.
The S2P workshop series began with a plenary opening session on February 3, in which participants explored the ways the work they are already doing in the classroom functions as leadership training.
For the two subsequent sessions on February 10 and February 17, participants selected their own thematic track from the three options available to identify the leadership development goals for these materials and brainstorm creative ways to teach to those goals, while still meeting other curricular objectives.
The thematic tracks were:
Creativity and Leadership, with Richard Giarusso: Understanding and meeting the evolving challenges of the human condition requires us to tap into our creativity and imagination. As humanities teachers and students, we regularly study and engage with creative artifacts, including literature, visual arts, music, film, and theater. But how do we understand our own identity as creative artists? What are the materials, practices, and mindsets that encourage imagination, creativity, and spirit of intellectual bravery in the classroom? And how can we translate those practices into leadership behaviors beyond the classroom? These and other questions were explored, with the aim of identifying and assessing the leadership behaviors germane to the practice of our disciplines. Then, they considered ways by which we might integrate such behaviors in our teaching.
Humanities, Leadership Development, and Racial Justice, with Irene Morrison-Moncure: This track was dedicated to thinking through how we can teach students to be better practitioners of racial justice through humanities coursework. Facilitators helped participants re-envision and rework course materials such as syllabi, projects, and assessments to activate the classroom as a space for imagining a more diverse and inclusive democracy. Together they considered ways to better teach students to read texts and images; to synthesize disparate and fragmentary evidence; to write and speak clearly and forcefully; to understand the values, experiences, and cultures of others; and to hold critical and constructive dialogues across differences.
Leadership Development and Graduate Humanities Education, with Christine Tulley: This workshop track explored what role graduate programs in the humanities have to play in developing scholars as leaders and showcased models and samples to participants. Specifically the workshop addressed: a) what leadership development is needed in graduate education specifically to develop graduates as leaders, b) how does the unique context of the humanities graduate degree offer a space to build in leadership education and tools for enactment in academia and the workplace?, and c) how can course materials such as syllabi and course assignments be reworked using a leadership framework?
Participants had six (6) weeks to incorporate the feedback they received from facilitators, peers and students into their final, revised course materials. In the closing plenary session on April 7th, faculty presented their revised course materials and reflected on the opportunities and challenges of approaching their teaching as leadership training.
Digital Humanities Symposium
Date: March 24 and 25, 2022
Organized by Verena Kick, Assistant Professor of German, and supported by the Georgetown Humanities Initiative, the GU DH Symposium is the first showcase of Digital Humanities research, projects, and pedagogy at Georgetown University and beyond.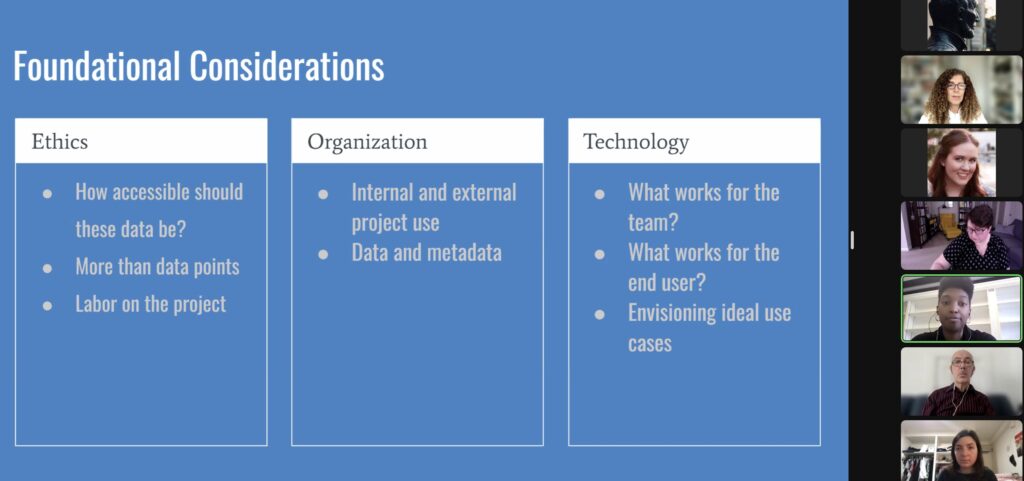 The symposium was an opportunity for learning about the digital projects of Georgetown's faculty and graduate students, as well as researchers from institutions in the area on board showcasing their DH-related work. The participants discussed the challenges of such projects, shared strategies for starting and maintaining DH projects, while also inspiring the attendees at Georgetown and beyond to undertake research and teaching in the context of Digital Humanities. In addition, Megan Martinsen, Digital Scholarship Librarian at Georgetown, joined the symposium, as a moderator and commentator, and helped connect people with the digital scholarship support and resources available at Georgetown.
Panels:
Starting and Maintaining Digital Projects
Digital Projects in the (FL) Classroom
Digital Projects Using "Scalar"
Jonathan Fine (German Studies – Brown University), "The Fragments Controversy: Lessing's Radical Popular Enlightenment", and
Verena Kick, (GU German), "Revolutionizing Weimar Germany's Public Sphere: The Invasion of the Worker – Using Scalar to Showcase Montage Principles in Photobooks".
Creating Digital Archives
Dylan Lewis (English, University of Maryland), "The Samuel Richardson Bibliography Online", and
Elisa Reverman (GU Philosophy), and Lovely Umayam (Bombshelltoe Policy and Arts Collective; Non-Resident Fellow Stimson Center), "Lifelines – a Collaboration between the GCNP X Bombshelltoe Arts Collective x Elisa Reverman".
DH and Research on Russia
Paula Chan (GU History), "Digitally Reconstructing the Soviet Extraordinary State Commission",
Bradley Gorski, (GU Slavic Languages), "The Russian 90s: Digitizing the post-Soviet Transition", and
Basil Lvoff, (Hunter College, CUNY, Dept. of Classical and Oriental Studies, Division of Russian and Slavic Studies), "Distant Reading as Estranged Reading: Russian Formalism and Digital Humanities".
Working with Manuscripts in DH
Seth Perlow (GU English), "What Computers Can't Read: Computational Graphology and Literary Manuscripts".
Using Digital Archives
Molly Thacker (GU History), "Using Digital Humanities Tools to Trace Unaccompanied Child Migrations in Early Twentieth-Century United States", and
Jana Keck, (German Historical Institute, Washington DC), "Reprinting culture of Ger(wo)manness: or how to find Women in the Digitized Archive of nineteenth-century German-American Newspapers".
Antiracism: Communities + Collaborations: Diversity in/and Higher Education
Date: February 1, 2022
The Georgetown Humanities Initiative and the University of Maryland's Center for Literary and Comparative Studies co-sponsored this webinar, focusing on diversity in today's higher education.
The panelists included: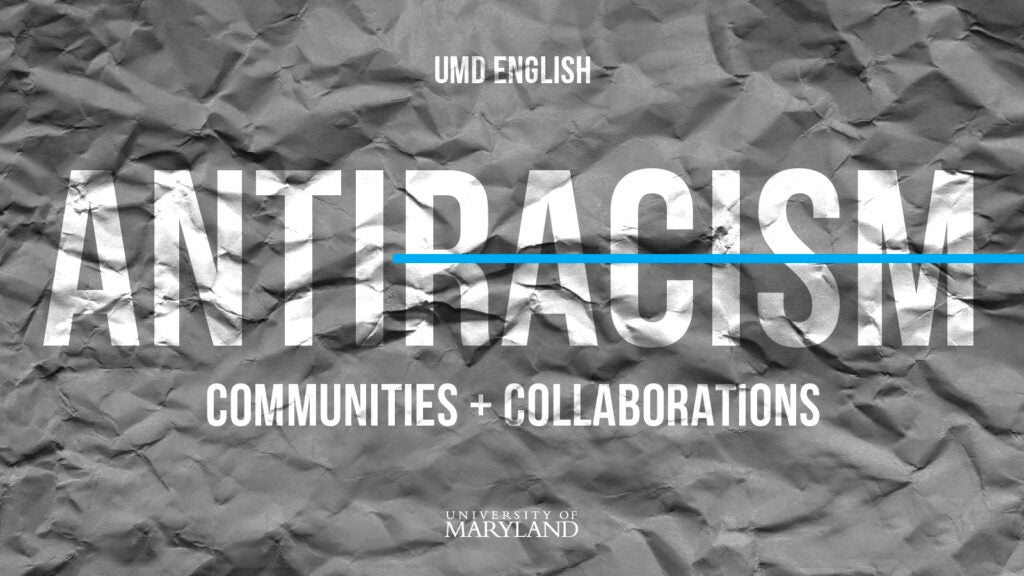 Patricia A. Matthew, associate professor of English at Montclair State University where she teaches courses about British Romanticism, the history of the novel, and British abolitionist literature. Matthew is the editor of Written/Unwritten: Diversity and the Hidden Truths of Tenure (U of North Carolina P, 2016) and has published essays and book reviews on diversity in higher education in PMLA, The College Language Association Journal, Signs, and The New Inquiry. She is currently writing a monograph about sugar, gender, and British abolitionist culture under advance contract with Princeton UP;
Christy Pichichero, public intellectual and Associate Professor of History and French at George Mason University. She is the Director of Faculty Diversity in the College of Humanities and Social Sciences, the President of the Western Society for French History, and a thought leader in Critical Race Theory, anti-racism, diversity, equity, and inclusion. Dr. Pichichero's first book, The Military Enlightenment: War and Culture in the French Empire from Louis XIV to Napoleon (Cornell UP, 2017). Her current book-length research project engages theories of Critical Race Studies and Critical Mixed Race Studies to investigate intersectionality and processes of racialization in 18th-c Europe; and
Julius B. Fleming, Jr. was the moderator. Fleming earned a doctorate in English, and a graduate certificate in Africana studies, from the University of Pennsylvania. Specializing in Afro-Diasporic literatures and cultures, he has particular interests in performance studies, black political culture, diaspora, and colonialism, especially where they intersect with race, gender, and sexuality. Professor Fleming is currently completing his first book manuscript, entitled "Black Patience: Performance, Civil Rights, and the Refusal to Wait for Freedom," under contract with New York University Press. This project reconsiders the Civil Rights Movement from the perspective of black theatre, while examining the importance of time and affect to the making of the modern racial order. Analyzing a largely unexplored, transnational archive of black theatre, it demonstrates how black artists and activists used theatre and performance to unsettle the demands of a violent racial project he terms "black patience."
The event was part of the University of Maryland's Center for Literary and Comparative Studies' "Antiracism: Communities + Collaborations" series, which features scholarship, teaching, and public engagement to reimagine boundaries, model antiracist literary and rhetorical inquiry, and foster collaborative relations across and beyond campus.