2022 Past Events
Fall 2022
Humanities Responses to Forced Migration: A Conversation with Martha Bigelow and Nadia Hashimi
Date: October 6, 2022
This Global Humanities Seminar showcased interdisciplinary work about forced migration and arts, narratives, identity, and language. It showed how a humanistic perspective into forcible migration illuminates the social, moral, aesthetic, and linguistic experiences of refugees and migrants. This was the first event in the seminar series "Humanities Responses to Forced Migration".
This event featured Dr. Martha Bigelow, university professor, University of Minnesota's College of Education and Human Development, and Nadia Hashimi, Afghan-American physician and novelist; and was co-sponsored by the Office of Global Engagement, Georgetown Humanities Initiative, the Department of Italian Studies and the Initiative for Multilingual Studies.
Banning Books: Censorship, Parental Rights, and the Future of Intellectual Curiosity
Date: October 5, 2022
Over the past few years, public school boards and state governments across the United States have been restricting specific books from being taught in their classrooms or circulating in school libraries. Books about sexual identity, sexual activity, gender identity, and racial identity have been especially targeted. Reacting to or instigating parental concerns, local and state politicians have advocated close scrutiny of certain books, and in some places book burnings have resulted. Many contend that these assaults on books are politically motivated censorship, fuel a culture war, and drive an unnecessary moral panic.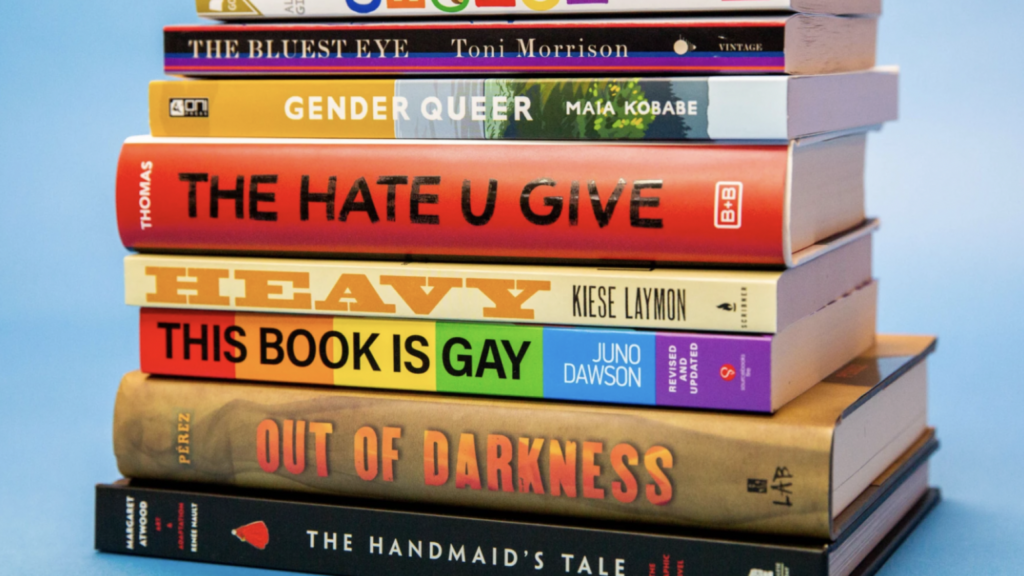 Amidst this ongoing debate, might the First Amendment and its guarantee of Free Speech offer some wisdom on how to navigate these issues? Is there a line to be drawn somewhere between censorship and parental rights? To answer these questions, Georgetown University's nonpartisan Free Speech Project hosted a conversation about the ongoing book-banning debate across America, and the future of intellectual curiosity.
Panelists included the author of the contested book Lawn Boy, a Republican Virginia state delegate who attempted to declare two books legally obscene, the director of PEN America's Washington office, and Georgetown University's vice president for institutional diversity and equity:
Timothy Anderson is a Republican member of the Virginia House of Delegates, representing a district encompassing Virginia Beach. In May 2022, he represented a client in a lawsuit to declare two books, Gender Queer by Maia Kobabe, a graphic novel memoir that depicts sexual acts in two illustrations, and A Court of Mist and Fury by Sarah J. Mass "obscene to minors" under state law. The lawsuit was later dismissed. He was designated Pro-Bono Attorney of the Year in 2017 and holds a J.D. from Regent University.
Jonathan Evison is The New York Times bestselling author of seven novels, including Lawn Boy, which has won awards but was America's second-most-challenged book of 2021, cited and restricted for LGBTQ+ content and sexually explicit passages. He has received recognition for West of Here, The Revised Fundamentals of Caregiving, and, most recently, Small World, which Booklist called "a masterpiece" and the Christian Science Monitor deemed "a modern classic."
Nadine Farid Johnson, managing director of PEN America's Washington office and its Free Expression Programs, leads the organization's high-level governmental engagement on a broad range of global and domestic issues. An attorney and advocate with a focus on democracy, human rights, and governance, she has worked across the public, private, and nonprofit sectors. She is a former U.S. diplomat whose work spanned the Middle East, Africa, Europe, and multilateral affairs. Previously, she served as executive director of the American Civil Liberties Union of Kansas.
Rosemary Kilkenny is Georgetown University's first vice president for institutional diversity and equity. Previously, she served as special assistant to the president for affirmative action programs at Georgetown and director of affirmative action at SUNY Albany. She has served on several national boards and is a founding board member of the National Association of Diversity Officers in Higher Education. She has given many seminars on cultural diversity, sexual harassment, and legal issues in affirmative action and holds a J.D. from Georgetown University Law Center.
Sanford J. Ungar (moderator), president emeritus of Goucher College, is director of the nonpartisan Free Speech Project at Georgetown University, which documents challenges to free expression in American education, government, and civil society. Director of the Voice of America under President Bill Clinton, he was also dean of the American University School of Communication and is a former co-host of "All Things Considered" on NPR.
Theology without Borders: Essays in Honor of Peter C. Phan
Date: October 5, 2022
Faculty Fellow Peter C. Phan's wide-ranging contributions to theology and his pioneering work on religious pluralism, migration, and Christian identity have made a global impact on the field. The essays in Theology without Borders, an edited volume published by Georgetown University Press, offer a variety of perspectives across Phan's fundamental work in eschatology, world Christianity, interreligious dialogue, and much more. Together, these essays offer a comprehensive assessment of Phan's groundbreaking work across a range of theological fields. Included in the conversation are discussions of world Christianity and migration, Christian identity and religious pluralism, Christian theology in Asia, Asian American theology, eschatology, and Phan's lasting legacy. The volume was edited by Berkley Center Faculty Fellow Leo Lefebure and includes a foreword from Berkley Center Director Thomas Banchoff and epilogue by Phan.
At this event, Phan, alongside a range of the book's contributors, discussed and reflected on their contributions to the book. Leo Lefebure, Matteo Ricci, S.J., Professor of Theology at Georgetown University and a Berkley Center faculty fellow, moderated the discussion.
"From Alone to Together: Navigating the Crisis of Community & Belonging on Campus"
Date: October 3, 2022
There is a startling epidemic of loneliness and disconnection today on college campuses and across U.S. society. A crisis which has for years threatened individual and collective wellbeing only worsened and became more glaring under the weight of the pandemic.
What core concepts and best practices can help us to cultivate deeper experiences of connection and meaningful community on campuses that are marked by enduring siloes, as well as by greater diversity than ever before? How might Jesuit mission and identity become a catalyst for promoting a sense of true belonging not only among students, but also among faculty and staff?
To explore these questions, this webinar featured David Marcotte, S.J., associate professor of psychology, Fordham University; Jodi O'Brien, professor of sociology and interim associate provost, Seattle University; Deborah Cady Melzer, vice president for student development and dean of students, Loyola University of Maryland; and Omer Mozaffar, Muslim chaplain, Loyola University Chicago; and was moderated by Michele Murray, senior vice president for student affairs and mission, and dean of students, College of the Holy Cross. This event took place on October 3, 2022, from 4:30 to 5:45 pm ET and was sponsored by Conversations on Jesuit Higher Education.
México en la Historia: Nuevas Perspectivas
Date: September 30, 2022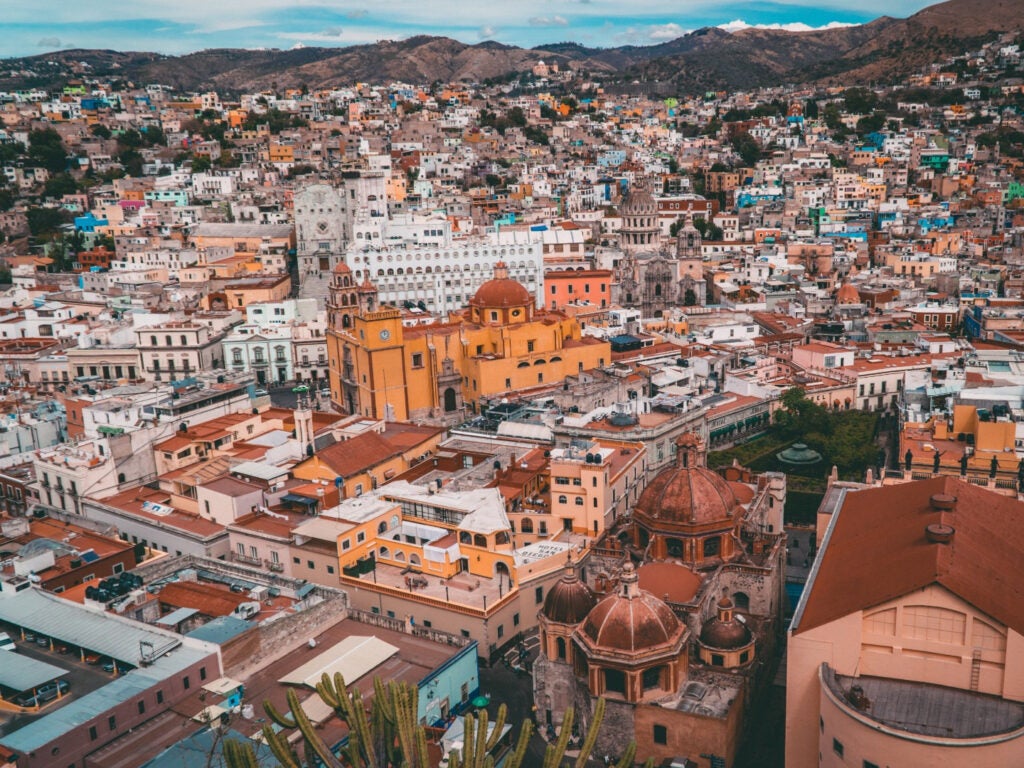 The Academia Mexicana de Historia recently elected Georgetown professor John Tutino as international corresponding member. In this inaugural program, he shared his latest views setting the long history that made Mexico in global perspective. Antonio García de Leon, distinguished historian and Miembro de Número of the Academia, responded to the presentation with his own reflections. In a second session, four Mexican scholars presented their pathbreaking visions, engaging questions ranging from ethnicity and regime-making to cholera politics, religion, and the challenges of transnational integration and migration.
Schedule:
10 am: Welcome and inaugural remarks
​Javier Garciadiego (El Colegio de México, Academia Mexicana de Historia).
10:40 am: México en la Historia: Nuevas Perspectivas
John Tutino (Georgetown University), "Nueva España y México en el capitalismo global: Orígenes y florecimiento, crisis y conflictos".
Antonio García de León (respondent) (Universidad Nacional Autónoma de México), "El Bajío y la historia global: Nuevas perspectivas".
12:30 pm: De la Nueva España a México: Nuevas Perspectivas (moderated by John Tutino)
María Guevara Sanguines (Universidad de Guanajuato), "Esclavos y libertos en el desarrollo de Guanajuato en el siglo XVIII".
José Antonio Serrano Ortega (Colegio de Michoacán), "Estado, estados y nación: las regiones políticas en la formación de México".
Alfredo Avila (Universidad Nacional Autónoma de México), "El primer cólera: religión, raza, género y violencia en el mundo Atlántico".
Martha Guerrero (Yale University), "Redes hemisféricas entre México y los Estados Unidos en los siglos XX/XXI".
This event was co-sponsored by La Academia Mexicana de Historia, El Instituto Cultural Mexicano, and the Georgetown University Georgetown Americas Institute.
A Celebration of Black Girlhood
Date: September 28, 2022
For the last decade, the Georgetown Law Center on Poverty and Inequality has worked to achieve race and gender equity in the lives of Black girls through its Initiative on Gender Justice and Opportunity. The program has generated groundbreaking research, reports, and events on the challenges and jubilations of Black girlhood.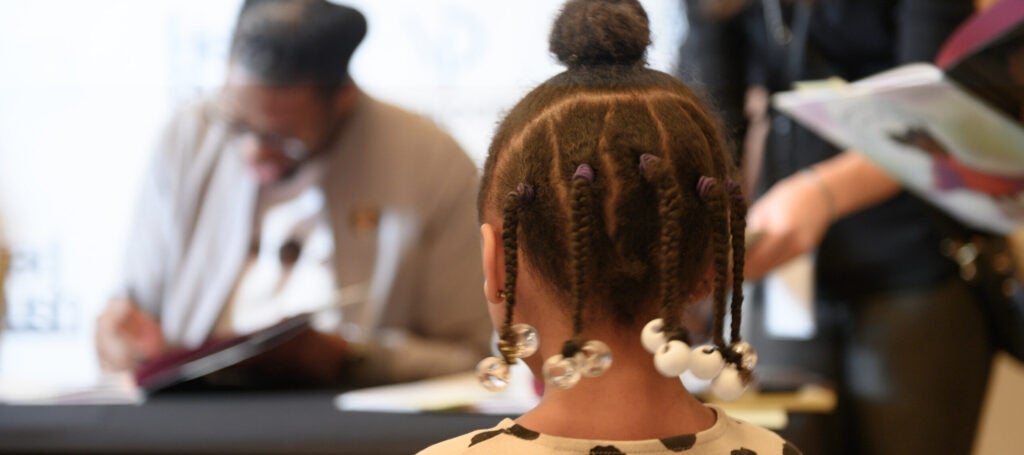 In recognition of the center's 10th anniversary and contributions to the field, the center organized an evening uplifting Black girls' voices in celebration of the joys of Black girlhood. The evening featured Marley Dias, founder of #1000BlackGirlBooks, a spoken word performance by the Initiative's Youth Storyteller in Residence and three-time National Speech & Debate champion, Logan Green, and a conversation with the trailblazing Black artist Scheherazade Tillet.
This Cultural Capital program was presented by the National Museum of Women in the Arts's Women, Arts, and Social Change initiative in partnership with the Georgetown Law Center on Poverty and Inequality.
Independent Mindset: Conversation & Concert with Marco Pavé and LaRussell
Date: September 22, 2022
Bay-Area hip-hop artist LaRussell joined Georgetown's hip-hop artist-in-residence Marco Pavé for a Critical Frequencies series performance and an in-depth conversation around the state of hip-hop, independent art production, social media and more.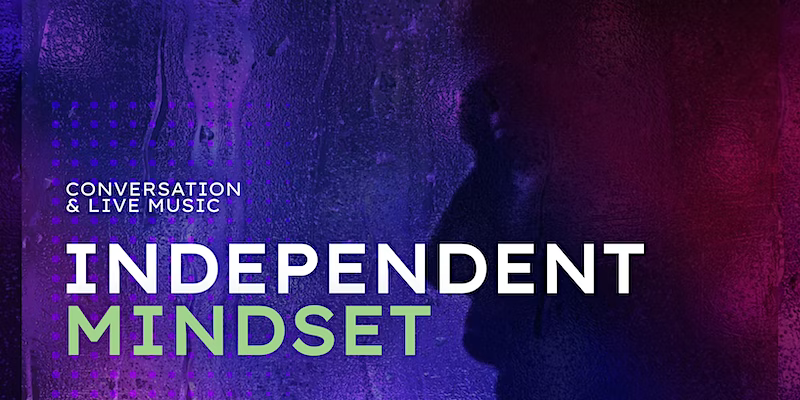 The Intersection of Academy and Activism: A Critical Conversation with Black Leaders and Scholars on the Hilltop
Date: September 20, 2022
The Chronicle of Higher Education recently reported that, as of 2019, Black women are disproportionately underrepresented on University campuses, making up only 2.1% of tenured associate and full professors at U.S. universities. In this conversation, Black women faculty and administrators will discuss what it means to be a scholar or leader in the academy in the midst of heightened calls for racial justice and equity. The panel will explore how their scholarship and activism converge, on and off-campus, and how their work may inform social change.

This conversation will be moderated by Melissa Bradley (B'89), Professor, McDonough School of Business at Georgetown University, and feature:

Dr. Nadia Brown, Professor of Government, chair of the Women's and Gender Studies Program and affiliate in the African American Studies program, Georgetown University , and
Dr. Adanna Johnson, Associate Vice President for Student Equity and Inclusion, Office of Student Equity and Inclusion (OSEI), Georgetown University.
This panel was part of the Critical Conversations series hosted in the lead-up to Black Alumni Summit.
A Conversation with Nobel Laureate Abdulrazak Gurnah
Date: September 14, 2022
This event, co-sponsored by the Lannan Center and the African Studies Program, featured Tanzanian novelist and Nobel Laureate Abdulrazak Gurnah in conversation with Aminatta Forna.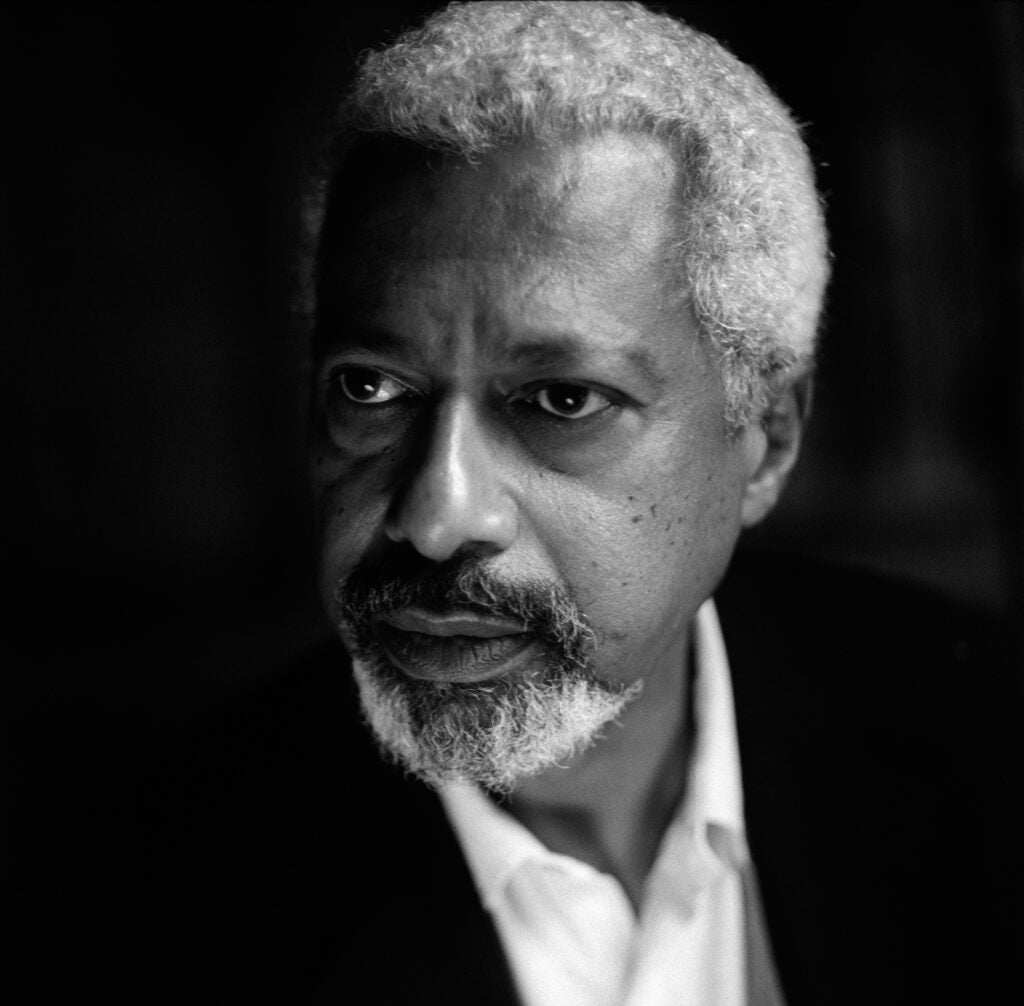 Abdulrazak Gurnah is the 2021 winner of the Nobel Prize in Literature, becoming the first Black writer to win the award since Toni Morrison in 1993. His most recent novel, Afterlives was published by Riverhead Books in August 2022. According to the TIME Magazine, Gurnah's body of work is praised for his "uncompromising and compassionate penetration of the effects of colonialism and the fate of the refugee in the gulf between cultures and continents." Those topics are at the center of Afterlives, a heartbreaking and sweeping story centered on the devastation brought about by Germany's colonial rule in early 20th-century East Africa. In Afterlives, Gurnah set out to write a novel about this period partly to bring greater awareness to the brutalities inflicted on those living in East Africa at the time. The story focuses on four characters who are all touched by the war in different ways and examines the impact of trauma. Gurnah is very familiar with the landscape of this narrative—he was born in Zanzibar, now Tanzania, and fled the country as a teenager, becoming a refugee at 18 and relocating to England.
Gurnah is also the author of nine previous novels, including Paradise (shortlisted for the Booker Prize), By the Sea (longlisted for the Booker Prize and a finalist for the LA Times Book Award), and Desertion. Born and raised in Zanzibar, he is Professor Emeritus of English and Postcolonial Literatures at the University of Kent; he lives in Canterbury, England.
Futurity Now?
Dates: September 6-8, 2022
It is not so long ago that Mark Fisher, in Ghosts of My Life (2013), pronounced the "slow cancellation of the future." Riffing on a phrase of Franco 'Bifo' Berardi, Fisher identifies a cultural inertia that resides in a collective inability to "grasp and articulate the present." The ubiquity of capitalism – and of a capitalist realism that presumes there is no alternative to the neoliberal global order – has, Fisher argues, given rise to a condition in which "life continues, but time has stopped." The "slow cancellation of the future" thus becomes, in Fisher's hands, a critical expression of this insidious creep that gradually but relentlessly corrodes the social imagination – and with it, the radical potential of the future. As Wendy Brown describes it, this loss of futurity and of forward momentum "makes the weight of the present very heavy: all mass, no velocity." Or "in the terms of late modern speediness … all speed, no direction."
Is, then, the future over? Not quite. Indeed, there is no greater critical concern in the contemporary moment than the future, and recent years have seen a marked resurgence of thinking about futurity. Fired by the urgency of our current condition, writers, theorists, artists and activists have turned anew to consider the possibilities of the future, both as a subject of theorization and as an orientation for practice in the world.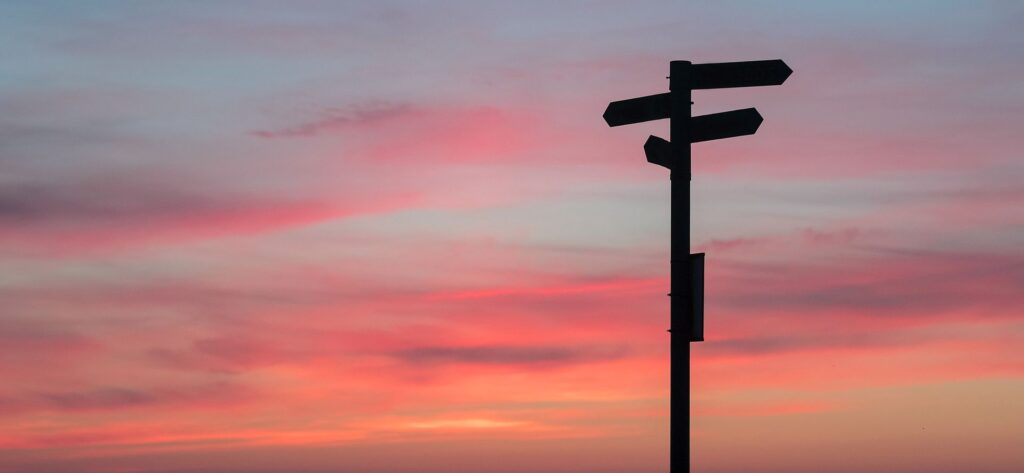 Against this background, the law and humanities workshop proposed a multi- and interdisciplinary discussion around the topic of "Futurity Now?". A joint venture of five international partner institutions on four continents, the workshop offered a creative and stimulating space for exploring critical and theoretical perspectives on the future "as time, as event, as condition, as an orientation to the oncoming" (Saint-Amour). Focusing on different contexts, and drawing on diverse theoretical literatures, workshop sessions asked and unpacked such critical questions as:
How can we reclaim futurity?
Which practices, forms and strategies are available for making our present condition legible?
What makes critique in "dark times" untimely and necessary? (Brown)
Is there still a way of disentangling ourselves from the global order of capitalism and disarticulating the connections made by current forms of power?
What alternative visions are possible for nurturing the desire for progressive change, for imagining law and politics otherwise?
How might we cultivate a sense of the future that looks forward rather than back – "un avenir" that is, to speak with Derrida and Latour, "à-venir"?
The programme comprised the following three online sessions:
Can Law Control the Future? (or is it just a Part of the Past?), hosted by the Faculty of Law, University of Roma Tre: Online workshop session featuring the following talks: Emanuele Conte, "Did Law Control the Future in the Past?"; Teresa Numerico, "Categorizing, Evaluating, Predicting: The Future as a Battlefield between Artificial Intelligence and Law"; and Fiona Macmillan, "Back to the Future: Is There Any Point at all in Protecting our Cultural Heritage?".
Colonial Legal Imaginaries / Southern Literary Futures, hosted by the Centre for Law, Arts and the Humanities, ANU & the University of Adelaide, with Debolina Dutta, Christopher Gevers, Luis Gómez Romero and Honni van Rijswijk: Literary imaginaries have been deeply implicated in European colonialism since Thomas More first conceived that 'prototype of the settler colony', Utopia (1516). Yet speculative fiction, centred on the rendering of an 'unknown world' or terra nullius, has a far longer history than that. Think of Pythagoras' theory of geographical balance (BC 500), or Ptolemy's idea of a 'terra incognita' (AD 2). Or Macrobius' commentaries on the existence of an 'antipodes' (AD 400), which by the time of the Liber Floridus (AD 1100) had become the home of literally backward people ('anti-podeans'). The long tradition in the North of imagining the South cannot be disentangled from the imperial projects that continue to colonise Southern lives. But there is also a vibrant critical tradition of writing back, from Black Utopianisms to Indigenous Futurisms. For authors such as Ambelin Kwaymullina, speculative fictions, written from the standpoints of Indigenous peoples, have the potential to 'open the way to futures free of the colonial project; a world that can only be imagined because it does not (yet) exist'. The same has been true for Pan-Africanist writers and for writers across the Americas and Asia. The utopic act of negating a given place and projecting onto it a 'better', future-perfect one, is the colonial move; but it can also be anti-colonial, and in a very real sense, post-colonial.
Organizing the Future (Or: How to Demand a Million More Years?), online talk with the artist Jonas Staal, hosted by the Institute for Interdisciplinary Legal Studies – lucernaiuris, University of Lucerne and the Institute for International Law and the Humanities, University of Melbourne: In a time of futureless future, how do we reclaim the means of production of futurity? How do we imagine, pre-form and organize collective futures anew? In this talk, artist and propaganda researcher Jonas Staal introduced his artistic practice, with a focus on what he terms "organizational art": artworks that take the form of alternative institutions, such as stateless parliaments, utopian training camps, intergenerational climate courts and experimental biospheres. The talk was followed by responses from Carey Young and Tim Lindgren, and an open Q&A session.
Futurity Now was part of Critical Times: Law, Humanities and Critique, a project which pursues new inter-, trans- and cross-disciplinary trajectories for understanding the forces shaping our world, and for (re-)imagining our futures linking a global cohort of critical and creative thinkers from four continents.
Spring 2022
No to War Film Series
Dates: March 14, March 18, April 1, April 8 and April 29, 2022
The Department of Slavic Languages organized this film series exploring both classic and contemporary Slavic films that convey an anti-war message:
The Ascent (1977), directed by Larisa Shepitko;
Come and See (1985), directed by Elem Klimov;
Prisoner of the Mountains (1996), directed by Sergei Bodrov;
Beanpole (2019), directed by Kantemir Balagov; and
Donbass (2018), directed by Sergei Loznitsa, on the simmering conflict preceding Russia's current invasion of Ukraine.
Humanities Grads in Business Fields-Virtual Alumni Panel
Date: April 26, 2022
In this event, co-hosted by the Cawley Career Education Center and the Georgetown Humanities Initiative, Georgetown College alumni talk about how they navigated career decisions on and off the Hilltop, what helped them land their jobs in business fields after graduation, how have they translated their humanities backgrounds to a fruitful career in business, and what advice they have for current or soon to be graduated students.
The panelists included:
MacKenna Strange (COL '19, English), Marketing Manager at Amazon Music,
Bee Jaworski (COL '17, American Studies), Program Manager Talent Partnerships at Etsy, and
Kathryn Murphy, (COL '21, History), Business and Technology Strategist for MITRE.
Humanities Teaching as Leadership Training: A Study-to-Practice Faculty Development Workshop Series
Dates: February 3, February 10, February 17 and April 7, 2022
This four-part study-to-practice (S2P) workshop series, offered by the Georgetown Humanities Initiative and Kallion Leadership Inc., gave faculty, graduate students and senior undergraduates the opportunity to:
Better understand and appreciate the role that humanities educators play as leadership trainers;
Intentionally redesign course materials with the explicit aim of getting students to practice leadership behaviors and cultivate leadership traits; and
Develop ways to effectively communicate with students, colleagues, administrators, and the public the ways in which humanities coursework translates into better leadership practice for students in the short and long-term.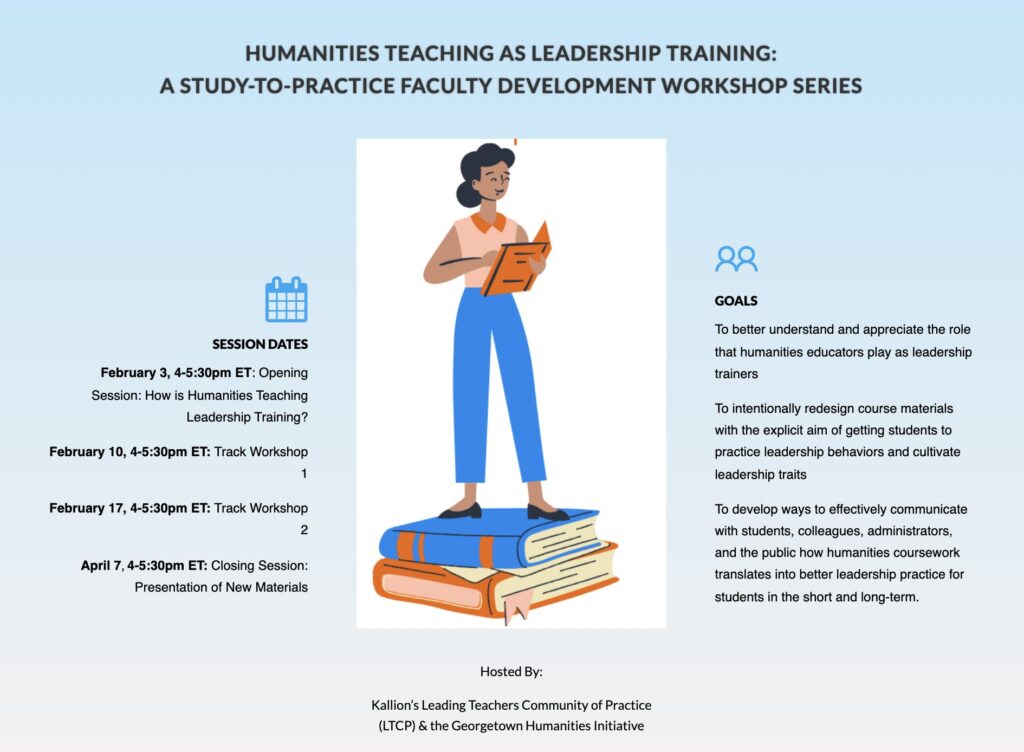 Small cohorts of faculty, graduate students and senior undergraduates worked together as equal partners in creating innovative leadership development course materials in order to make more engaging subject matter for all.
Faculty redesigned course materials, such as a syllabus, a module or assignment, with a leadership development framework in mind. Students co-designed the materials alongside faculty and provided their expert input on what kinds of activities are engaging and illuminating to students.
The S2P workshop series began with a plenary opening session on February 3, in which participants explored the ways the work they are already doing in the classroom functions as leadership training.
For the two subsequent sessions on February 10 and February 17, participants selected their own thematic track from the three options available to identify the leadership development goals for these materials and brainstorm creative ways to teach to those goals, while still meeting other curricular objectives.
The thematic tracks were:
Creativity and Leadership, with Richard Giarusso: Understanding and meeting the evolving challenges of the human condition requires us to tap into our creativity and imagination. As humanities teachers and students, we regularly study and engage with creative artifacts, including literature, visual arts, music, film, and theater. But how do we understand our own identity as creative artists? What are the materials, practices, and mindsets that encourage imagination, creativity, and spirit of intellectual bravery in the classroom? And how can we translate those practices into leadership behaviors beyond the classroom? These and other questions were explored, with the aim of identifying and assessing the leadership behaviors germane to the practice of our disciplines. Then, they considered ways by which we might integrate such behaviors in our teaching.
Humanities, Leadership Development, and Racial Justice, with Irene Morrison-Moncure: This track was dedicated to thinking through how we can teach students to be better practitioners of racial justice through humanities coursework. Facilitators helped participants re-envision and rework course materials such as syllabi, projects, and assessments to activate the classroom as a space for imagining a more diverse and inclusive democracy. Together they considered ways to better teach students to read texts and images; to synthesize disparate and fragmentary evidence; to write and speak clearly and forcefully; to understand the values, experiences, and cultures of others; and to hold critical and constructive dialogues across differences.
Leadership Development and Graduate Humanities Education, with Christine Tulley: This workshop track explored what role graduate programs in the humanities have to play in developing scholars as leaders and showcased models and samples to participants. Specifically the workshop addressed: a) what leadership development is needed in graduate education specifically to develop graduates as leaders, b) how does the unique context of the humanities graduate degree offer a space to build in leadership education and tools for enactment in academia and the workplace?, and c) how can course materials such as syllabi and course assignments be reworked using a leadership framework?
Participants had six (6) weeks to incorporate the feedback they received from facilitators, peers and students into their final, revised course materials. In the closing plenary session on April 7th, faculty presented their revised course materials and reflected on the opportunities and challenges of approaching their teaching as leadership training.
Digital Humanities Symposium
Date: March 24 and 25, 2022
Organized by Verena Kick, Assistant Professor of German, and supported by the Georgetown Humanities Initiative, the GU DH Symposium is the first showcase of Digital Humanities research, projects, and pedagogy at Georgetown University and beyond.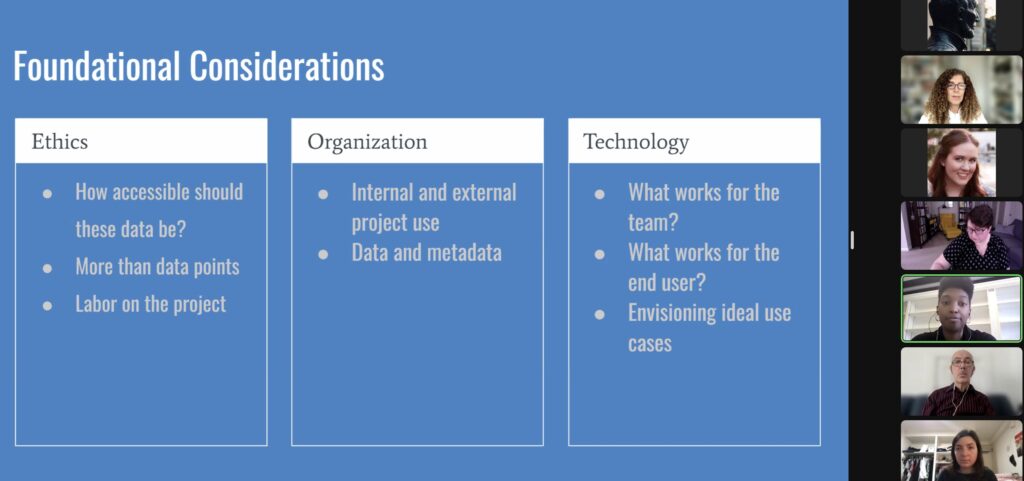 The symposium was an opportunity for learning about the digital projects of Georgetown's faculty and graduate students, as well as researchers from institutions in the area on board showcasing their DH-related work. The participants discussed the challenges of such projects, shared strategies for starting and maintaining DH projects, while also inspiring the attendees at Georgetown and beyond to undertake research and teaching in the context of Digital Humanities. In addition, Megan Martinsen, Digital Scholarship Librarian at Georgetown, joined the symposium, as a moderator and commentator, and helped connect people with the digital scholarship support and resources available at Georgetown.
Panels:
Starting and Maintaining Digital Projects
Digital Projects in the (FL) Classroom
Digital Projects Using "Scalar"
Jonathan Fine (German Studies – Brown University), "The Fragments Controversy: Lessing's Radical Popular Enlightenment", and
Verena Kick (GU German), "Revolutionizing Weimar Germany's Public Sphere: The Invasion of the Worker – Using Scalar to Showcase Montage Principles in Photobooks".
Creating Digital Archives
Dylan Lewis (English, University of Maryland), "The Samuel Richardson Bibliography Online", and
Elisa Reverman (GU Philosophy), and Lovely Umayam (Bombshelltoe Policy and Arts Collective; Non-Resident Fellow Stimson Center), "Lifelines – a Collaboration between the GCNP X Bombshelltoe Arts Collective x Elisa Reverman".
DH and Research on Russia
Paula Chan (GU History), "Digitally Reconstructing the Soviet Extraordinary State Commission",
Bradley Gorski (GU Slavic Languages), "The Russian 90s: Digitizing the post-Soviet Transition", and
Basil Lvoff (Hunter College, CUNY, Dept. of Classical and Oriental Studies, Division of Russian and Slavic Studies), "Distant Reading as Estranged Reading: Russian Formalism and Digital Humanities".
Working with Manuscripts in DH
Seth Perlow (GU English), "What Computers Can't Read: Computational Graphology and Literary Manuscripts".
Using Digital Archives
Molly Thacker (GU History), "Using Digital Humanities Tools to Trace Unaccompanied Child Migrations in Early Twentieth-Century United States", and
Jana Keck (German Historical Institute, Washington DC), "Reprinting culture of Ger(wo)manness: or how to find Women in the Digitized Archive of nineteenth-century German-American Newspapers".
Antiracism: Communities + Collaborations: Diversity in/and Higher Education
Date: February 1, 2022
The Georgetown Humanities Initiative and the University of Maryland's Center for Literary and Comparative Studies co-sponsored this webinar, focusing on diversity in today's higher education.
The panelists included: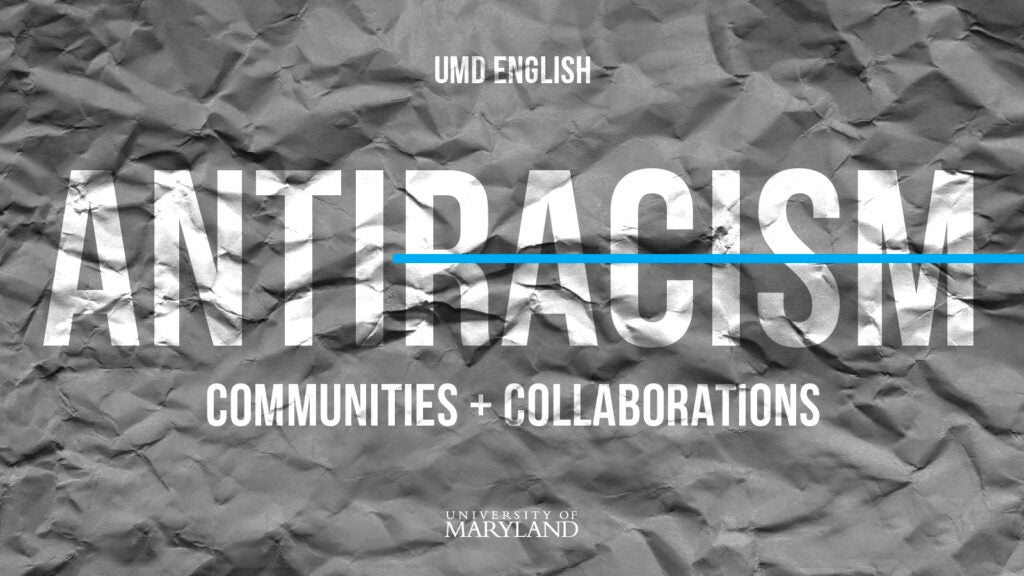 Patricia A. Matthew, associate professor of English at Montclair State University where she teaches courses about British Romanticism, the history of the novel, and British abolitionist literature. Matthew is the editor of Written/Unwritten: Diversity and the Hidden Truths of Tenure (U of North Carolina P, 2016) and has published essays and book reviews on diversity in higher education in PMLA, The College Language Association Journal, Signs, and The New Inquiry. She is currently writing a monograph about sugar, gender, and British abolitionist culture under advance contract with Princeton UP;
Christy Pichichero, public intellectual and Associate Professor of History and French at George Mason University. She is the Director of Faculty Diversity in the College of Humanities and Social Sciences, the President of the Western Society for French History, and a thought leader in Critical Race Theory, anti-racism, diversity, equity, and inclusion. Dr. Pichichero's first book, The Military Enlightenment: War and Culture in the French Empire from Louis XIV to Napoleon (Cornell UP, 2017). Her current book-length research project engages theories of Critical Race Studies and Critical Mixed Race Studies to investigate intersectionality and processes of racialization in 18th-c Europe; and
Julius B. Fleming, Jr. was the moderator. Fleming earned a doctorate in English, and a graduate certificate in Africana studies, from the University of Pennsylvania. Specializing in Afro-Diasporic literatures and cultures, he has particular interests in performance studies, black political culture, diaspora, and colonialism, especially where they intersect with race, gender, and sexuality. Professor Fleming is currently completing his first book manuscript, entitled "Black Patience: Performance, Civil Rights, and the Refusal to Wait for Freedom," under contract with New York University Press. This project reconsiders the Civil Rights Movement from the perspective of black theatre, while examining the importance of time and affect to the making of the modern racial order. Analyzing a largely unexplored, transnational archive of black theatre, it demonstrates how black artists and activists used theatre and performance to unsettle the demands of a violent racial project he terms "black patience."
The event was part of the University of Maryland's Center for Literary and Comparative Studies' "Antiracism: Communities + Collaborations" series, which features scholarship, teaching, and public engagement to reimagine boundaries, model antiracist literary and rhetorical inquiry, and foster collaborative relations across and beyond campus.