Student Spotlight: Katherine Rowe
Posted in Announcements
Katherine Rowe firmly believes that, no matter what you do, you can seek ways by which to bring out the humanity in other people. This is something Rowe wishes to center in her own career. Originally from California and with a background in politics, Rowe hadn't considered graduate school prior to coming across the Masters Program in Engaged & Public Humanities at Georgetown.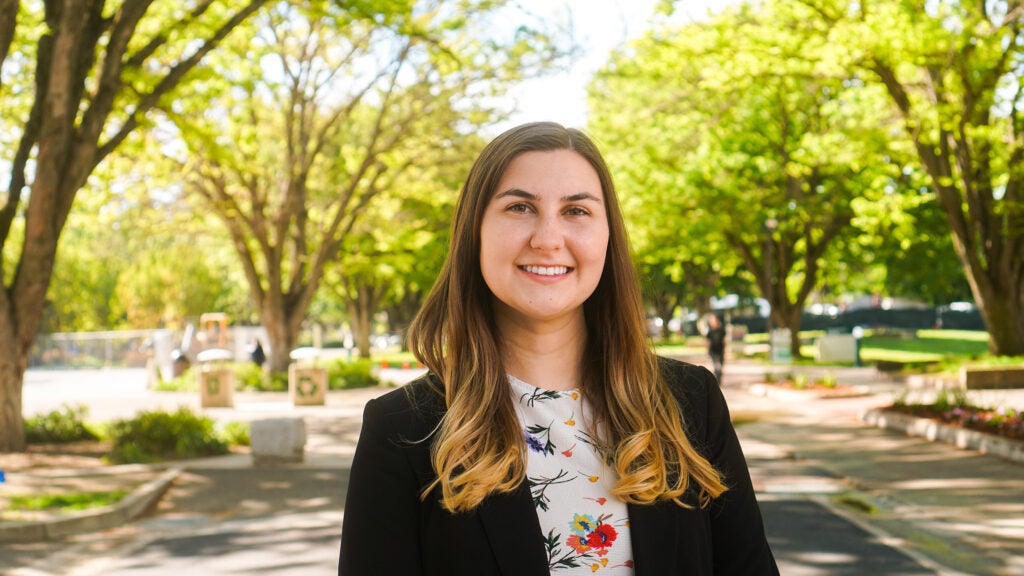 However, the combination of social justice, humanities, and community engagement offered by the ENPH program drew her in. She loved that the degree requirements allowed students to branch out and pick their preferred electives instead of providing students with a rigid courseload. The unique opportunities that Rowe has experienced through the ENPH program have led her to pursue an equally unique capstone project this summer: a digital exhibition using crochet as a form of data visualization to display voter turnout. The idea came from her Digital Humanities class, where she had spoken to her professor about her interest in crochet and she suggested that she focus a project proposal on that multimodal aspect. "I liked the idea of using something I really enjoy to also promote something I think is important," Rowe said.
As an ENPH student graduating this upcoming August, Rowe said that she held such fond memories from the program. In particular was an experience in her Global Journalism elective, where she was tasked with standing on a city corner and interviewing passers-by. She remembered the assignment pushing her out of her comfort zone, making her a lot more willing to engage in conversations with those she may not know.
Rowe hopes to continue pursuing her interest in politics in the District of Columbia for at least the next couple of years, while also continuing to crochet on the side. When asked if she had any advice for future ENPH students, Rowe urged them to keep their options open and be open-minded as they proceed through the program. "You can look at everything through a humanities-centric lens," she said, encouraging others to think creatively about how they can promote this vision through their work.