Leadership for Peace and Reconciliation Using Binti and Oslo
Posted in Other Events
There is acknowledged division and conflict across America today and many parts of the world, whether among families, racial and ethnic groups, or political parties. This problem is nothing new: the New Testament of the Christian tradition promises that those who work on reconciliation (the eirēnopoioi) are blessed and will be called the sons of the god (Matthew 5:9). But what does leadership for peace and reconciliation actually look and feel like? How do we develop such leadership in ourselves and how do we recognize and support it in others?
To answer this question, Kallion, Inc. organized a five-session Circle on leadership for peace and reconciliation based on the study of Nnedi Okorafor's Binti and J.T. Rogers' Oslo. Kallion's Co-Founder and Co-Executive Director, Norman Sandridge, will lead two discussion groups, capped at six participants each, which will explore two characters and their leadership for peace and reconciliation across ten weeks. The Circles will talk about what leadership for peace and reconciliation looks like and how we can develop those qualities in ourselves and others.
About the works discussed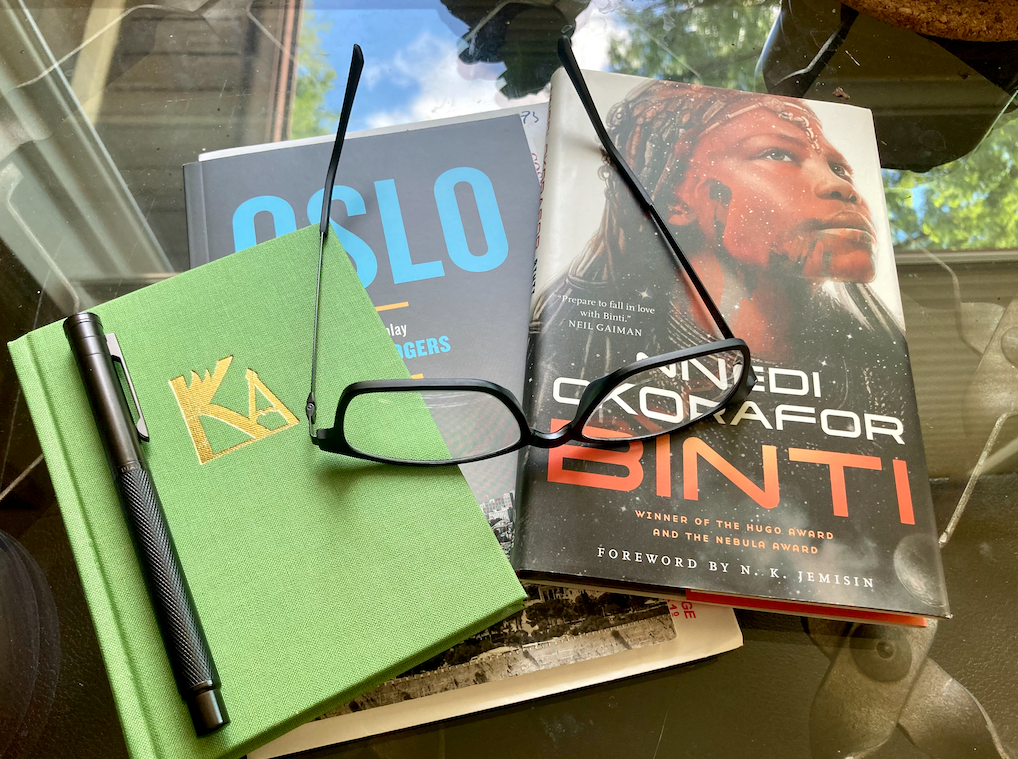 Binti from Nnedi okorafor's eponymous sci-fi novella:
Binti is a young Himba girl from Namibia who travels across the galaxy to attend Oomza University, but, along the way, encounters an alien culture known as the Meduse, whom she must work with to reconcile a deadly feud in order to save her own life.
Terje rød-larsen from J.T. Rogers' Oslo
J.T. Rogers' 2016 play, Oslo, tells a dramatized story of the 1993 Oslo Peace Accords between Palestine and Israel. Rød-Larsen, who is based on the historical Norwegian diplomat, hatches a plan to facilitate low-level and technically-illegal dialogue between members of the Israeli and Palestinian political communities gradually working toward an agreement between Israeli Prime Minister Yitzhak Rabin and Palestine Liberation Organization Chairman Yasser Arafat.
Their stories and conversation provided humanities undergraduate and graduate students with new ways to think and speak about their training, inspiring them to imagine new possibilities for their future paths. It encouraged humanities faculty to reimagine and redesign their work in the classroom as leadership trainers. And offered valuable reflections about the vitality of the humanities for the leadership development of everyone.
Participants will read Binti (84 pages) and have the option of either reading Oslo or watching the HBO movie based on it. Participants will attend five 90-minute online sessions where they will listen to each other and share their insights and examples of leadership development. Each session will be preceded by a 15-minute leadership writing prompt which participants will be prepared to share at the session. The total time commitment is estimated to be about 20 hours across ten weeks.
The Tuesday cohort on September 22, October 6, October 20, November 3 and November 17, 2022. The Thursday cohort will meet on September 29, October 13, October 27, November 10 and December 1, 2022. Each cohort will meet every two weeks, from 7:30 to 9 pm ET.
The registration deadline is September 12, 2022. The registration fee is $249.
Read more about the "Leadership for Peace and Reconciliation Using Binti and Oslo" Kallion Circle.