Leading with Friendship
Posted in Other Events
Should your boss be your friend? Or do friendship ties pose an inherent threat to organizational effectiveness and fair dealing? Should our friends agree with us no matter what, or should they speak up when they see us acting against our own best interests, or even against what is right? Across time and cultures, humans seeking to live well in communities have grappled with how to answer these questions in theory and practice. Over the course of six hour-long lunch sessions, the participants of this Kallion Circle will explore how we define "leadership" and "friendship," and how these concepts do and should – and should not – intersect in our personal, professional, and civic lives.
Kallion Co-Founder and Co-Executive Director, Mallory Monaco Caterine, will lead these conversations, grounded in exploration of practical philosophical texts from ancient Greece and Rome, classical China, and 21st century US: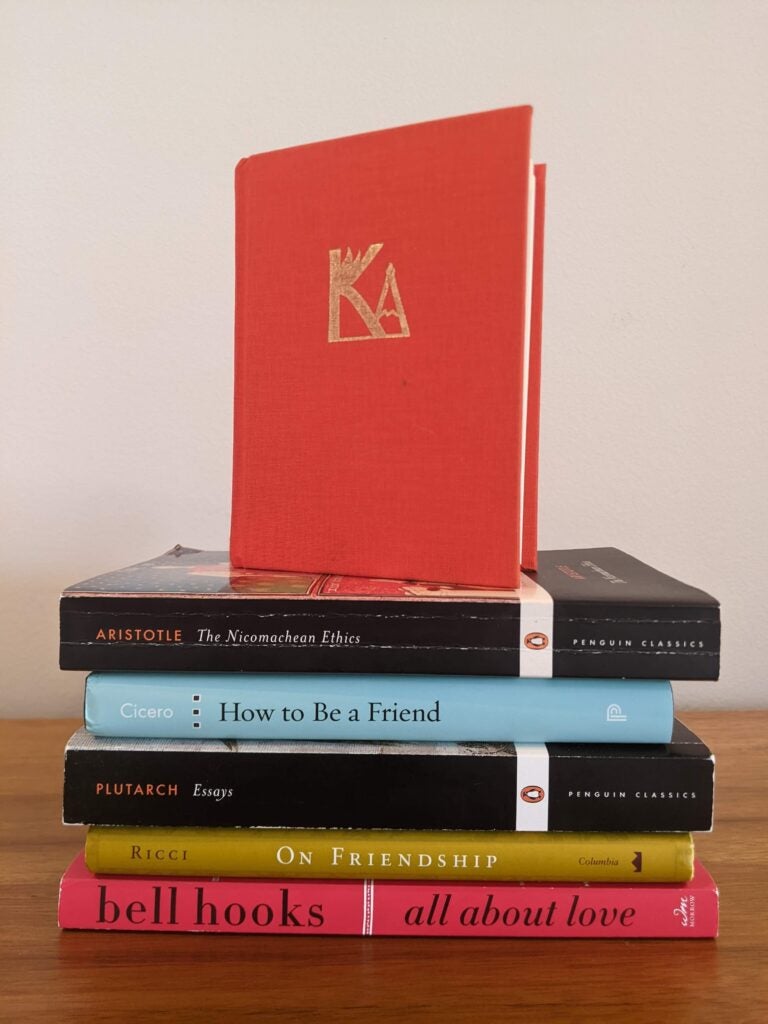 Aristotle:
4th century BCE Greek philosopher and tutor to Alexander the Great, Aristotle will introduce participants to three classifications of friendship – of utility, of pleasure, and of virtue – that we experience in our lives.
Cicero:
1st century BCE republican Roman lawyer, politician, and philosopher, Cicero invites us to consider what sparks and sustains our friendships, as well as the grounds for breaking up with a friend.
Plutarch:
2nd century CE Greek philosopher, biographer, and statesman, Plutarch will guide us on how to speak hard, yet important, truths to our friends.
Matteo Ricci:
16th century CE Jesuit missionary to China and contemporary with Shakespeare, Ricci will challenge us to distill and translate our ideas of friendship to people from other cultures ("friends from afar").
bell hooks:
A Black American 21st century intersectional feminist philosopher, hooks calls us to see friendship and love as central to the work of building strong communities and inspiring positive social change.
Participants will be expected to read 15 – 25 pages in preparation for each weekly session. They will spend a few minutes each session building their understanding of the contexts and contents of each reading, while the main will work will be on discovering insights and connections from the readings that they can each apply to their own personal leadership development. Each session will be preceded by a 15-minute leadership writing prompt which participants will be prepared to share at the session. This investment in private and collective reflection will enable them to form stronger, more collaborative, and mutually enriching relationships in all aspects of their lives.
There will be two cohorts, meeting on October 4, October 11, October 18, October 25, November 1 and November 8, 2022. The first cohort will meet from 12 to 1 pm ET, while the second cohort will meet from 1:30 to 2:30 pm ET.
The registration deadline is September 24, 2022. The registration fee is $249.
Read more about the "Leadership with Friendship" Kallion Circle.